Date and place
From 07 to 10 June 2022, in Besançon
Map
Access
To come to Besançon :
By train: the Besançon-TGV train station is out of town. The Besançon Viotte train station, in the city center, is linked to the TGV station by a regular shuttle.
By plane: The closest airports are Geneva (GVA), Zurich (ZRH), Lyon (LYS), or Basel – Mulhouse Freiburg (EAP).
By car: The A36 freeway serves Besançon.
Conferences and workshops locations :
Map of the Diocesan Center: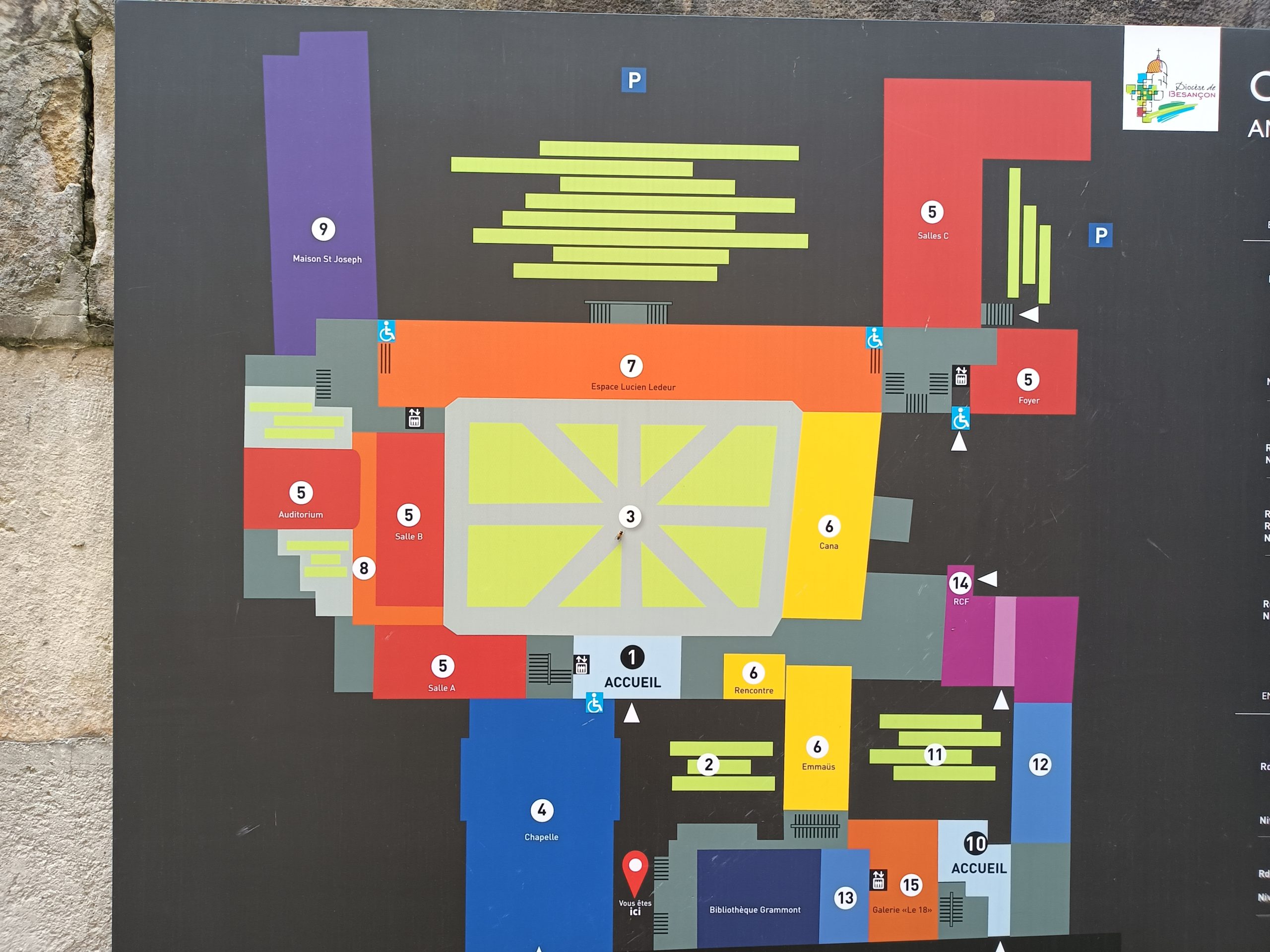 Évènements
An agenda is available here.
A welcome cocktail will take place on Tuesday, June 7 at 8 pm at the Citadel of Besançon.
It is possible to visit the place (the monument and its zoo) before the cocktail, at 7:15 pm, by indicating it on the registration form.

Update of 26/04/22: The maximum capacity for the cocktail has been reached, so we have closed the registration for this specific event.

There are two options for getting to the citadel:

A bus will be waiting for you at the exit of the first SF2A day, and will go up to the citadel. A first bus will leave at 6:30 pm for the citadel tours, and another will leave at 7:00 pm to go to the cocktail party. Upon arrival, there will be a 5-10 minute walk, as the buses cannot reach the top.
It is also possible to go up on foot, for the more athletic and those who wish to enjoy a pleasant walk. The climb has about 100m of positive difference in altitude, and takes 20-25 minutes. Two different routes:

The SF2A conference for general public takes place at the Grand Kursaal. Aurélie Guilbert-Lepoutre will give, at 7:00 pm, a presentation entitled "Small bodies in the solar system and beyond". To get to the Grand Kursaal from the city center, the easiest way is to go on foot. From the Besançon-Viotte train station, you can take the L3 bus to its terminus, the 8 September stop, and then walk about 5 minutes.
A buffet dinner will be served in the Parc de l'Observatoire (Observatory Park) on Thursday, September 9, starting at 7:30 pm, accompanied by musical and theater activities. To get there, take the L3 line from the city center or the Viotte train station, and stop at IUT. Schedules are available on ginko.voyage. Then, walk up the avenue to the observatory. It is also possible to walk from the city center in ~45 minutes (interactive map).

Tourisme
100% veggie restaurants:
Regional restaurants:
Pizzas, pies, …
Contact
Should you have any questions or encounter any difficulties, do not hesitate to contacte the LOC.
Should you encounter technical problems when registering through this website, please contact the web administrator.